PENYELESAIAN SENGKETA PERBANKAN MELALUI MEDIASI PERBANKAN
PENYELESAIAN SENGKETA PERBANKAN MELALUI MEDIASI PERBANKAN
MUSRIFAH MUSRIFAH

UIN Sultan Syarif Kasim Riau

SYUKRAN SYUKRAN

UIN Sultan Syarif Kasim Riau
Keywords:
Alternatif Penyelesaian Sengketa, Mediasi Perbankan
Abstract
Dalam pelaksanaan kegiatan usaha perbankan seringkali hak-hak nasabah tidak dapat terlaksana dengan baik sehingga menimbulkan friksi antara nasabah dengan bank yang ditunjukkan dengan munculnya pengaduan nasabah. Proses mediasi perbankan merupakan kelanjutan dari pengaduan nasabah apabila nasabah merasa tidak puas atas penanganan dan penyelesaian yang diberikan oleh bank.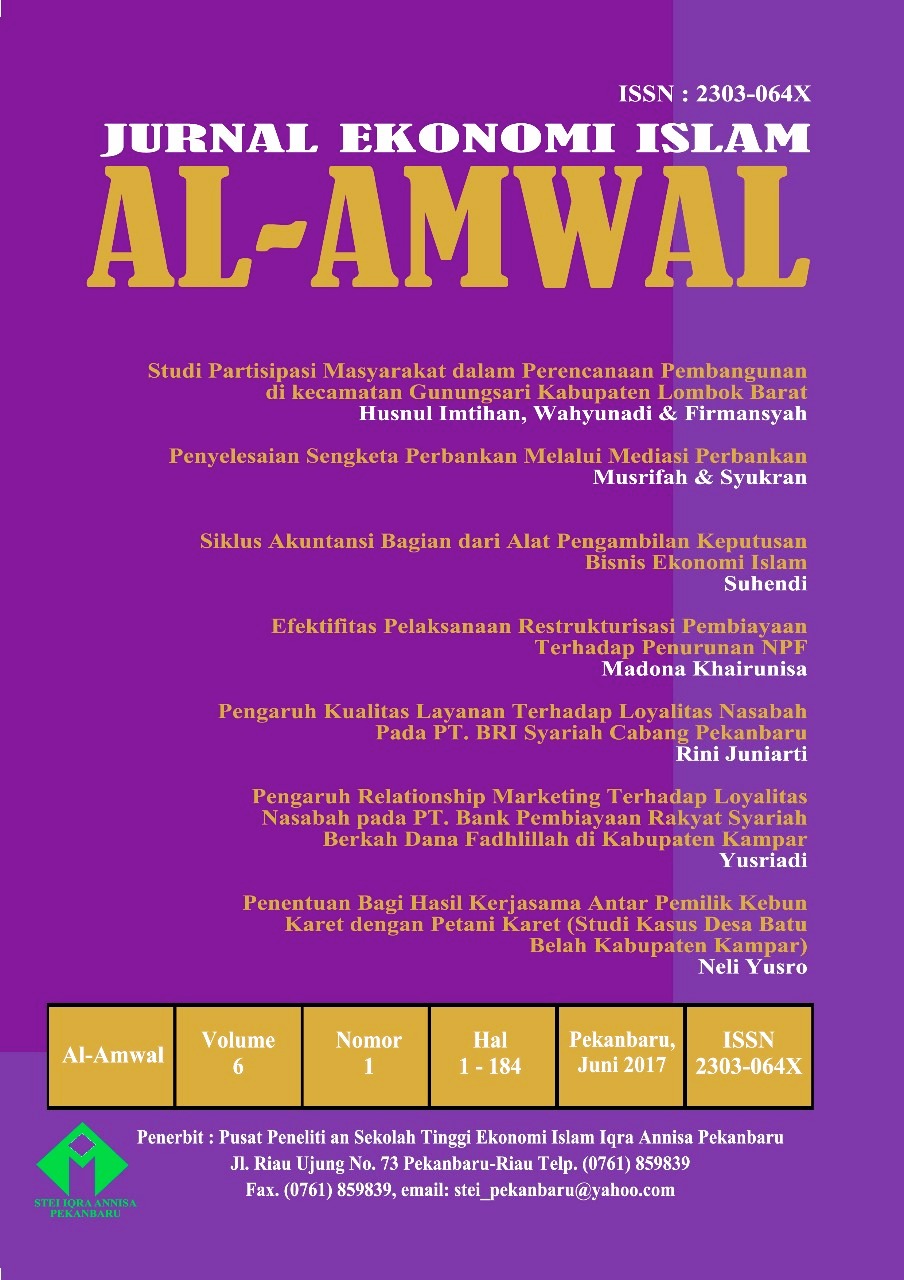 1. Copyright of all journal manuscripts is held by the Al-Amwal : Jurnal Ekonomi Islam
2. Formal legal provisions to access digital articles of electronic journal are subject to the provision of the Creative Commons Attribution-ShareAlike license (CC BY-NC-SA), which means that Al-Amwal : Jurnal Ekonomi Islam is rightful to keep, transfer media/format, manage in the form of databases, maintain, and publish articles.
3. Published manuscripts both printed and electronic are open access for educational, research, and library purposes. Additionally, the editorial board is not responsible for any violations of copyright law.
licensed under a Creative Commons Attribution-ShareAlike 4.0 International License.