TRANSMISI KEBIJAKAN MONETER SYARIAH DI INDONESIA : REVIEW LITERATUR
Budi Trianto

STEI Iqra Annisa

Muhammad Al-Bahi

UIN Sultan Syarif Kasim
Abstract
Krisis moneter senantiasa terjadi berulang pada hampir setiap satu decade. Salah satu penyebab terjadinya krisis moneter adalah adanya money creation pada aktifitas perekonomian pada ekonomi konvensional. Untuk mengatasi fenomena tersebut, ekonomi islam hadir dengan menerapkan konsep kebijakan moneter syariah. Paper ini bertujuan untuk mengekplor kebijakan moneter syariah di Indonesia sebagai alternatif dalam mendukung aktifitas perekonomian pada sector rill. Dengan menggunakan pendekatan study literature, terdapat beberapa kebijakan yang diambil oleh Bank Indonesia dalam mendukung sector rill diantaranya adalah Fasilitas Simpanan Bank Indonesia Syariah (FASBIS), Sertifikat Bank Indonesia Syariah (SBIS) dan Repo SBIS, Sertifikat Investasi Mudhorabah Antar Bank (SIMA) hingga Surat Berharga Syariah Negara (SBSN). Kebijakan tersebut diharapkan mampu menggerakan ekonomi pada sector rill. Meskipun dalam beberapa kajian kebijakan moneter syariah belum menemukan bentuknya, namun mampu menciptakan kestabilan moneter karena ditoapng oleh sector rill.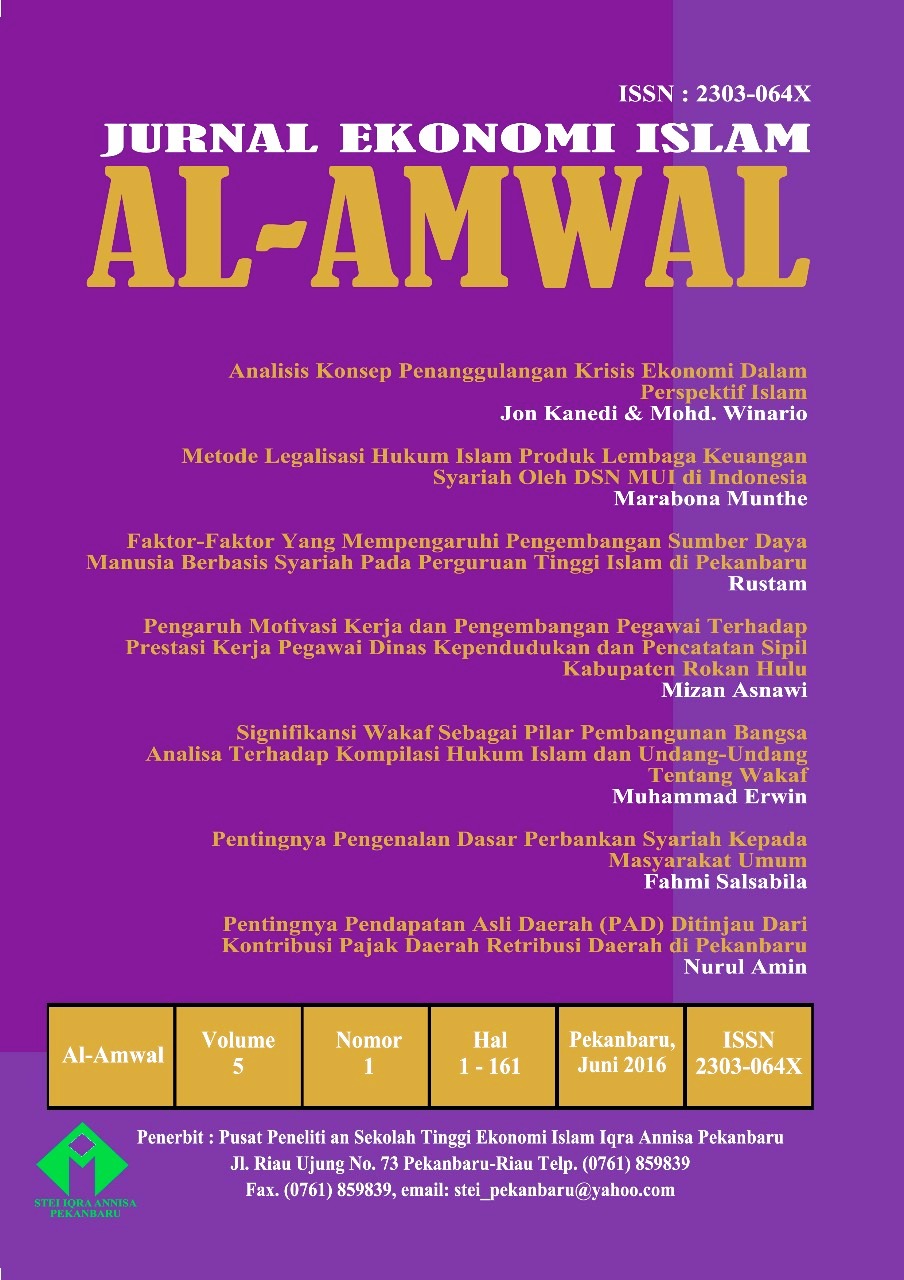 1. Copyright of all journal manuscripts is held by the Al-Amwal : Jurnal Ekonomi Islam
2. Formal legal provisions to access digital articles of electronic journal are subject to the provision of the Creative Commons Attribution-ShareAlike license (CC BY-NC-SA), which means that Al-Amwal : Jurnal Ekonomi Islam is rightful to keep, transfer media/format, manage in the form of databases, maintain, and publish articles.
3. Published manuscripts both printed and electronic are open access for educational, research, and library purposes. Additionally, the editorial board is not responsible for any violations of copyright law.
licensed under a Creative Commons Attribution-ShareAlike 4.0 International License.