FATWA BUNGA BANK PERSPEKTIF MAQASHID SYARIAH
FATWA BUNGA BANK PERSPEKTIF MAQASHID SYARIAH
MARABONA MUNTHE

STEI Iqra Annisa Pekanbaru
Abstract
Salah satu unsur pokok operasional perbankan adalah pemberlakuan sistem bunga. sistem ini telah lama dijalankan di tengah-tengah masyarakat,  MUI pusat melalui komisi fatwa juga telah lama mengkaji permasalahan bunga ini dengan metetapkan hukum riba berlaku pada bunga bank, namun tidak dapat dipungkiri bahwa masih banyak masyarakat yang beranggapan bahwa bunga bank adalah mubah dengan pertimbangan mashlahat, hal itu terlihat dari total pencapaian aset bank syariah yang sangat sedikit yaitu + 5 % dari total asset perbankan nasional meskipun sudah beroperasi + 25 tahun di Indonesia yang mayoritas penduduknya adalah muslim. Paper mengkaji proses penetapan fatwa bunga bank oleh MUI dan maqâshid al-syarîah pengharaman bunga bank oleh MUI. Penelitian ini menggunakan metode kualitatif (qualitative methode), untuk memperoleh data yang dibutuhkan, peneliti menggunakan studi lapangan baik dengan instrumen wawancara maupun dokumentasi. Kesimpulan utama paper ini menyatakan bahwa ketentuan fatwa MUI nomor 01 tahun 2004 tentang bunga bank telah memenuhi kaedah penetapan hukum dengan metode Ijtihâd Intiqâ'i menggunakan qiyâs dan sadd al-dzarî'ah sebagai sumber penetapan fatwa. Berdasarkan pendekatan maqâshid al-syarîah, pengharaman bunga bank melalui fatwa MUI nomor 01 tahun 2004 berakibat kepada kemaslahatan ummat secara umum baik menyangkut pemeliharaan terhadap agama, jiwa, harta, akal, keturunan dan keadilan bagi semua pihak yang bertransaksi secara muamalah tanpa bunga.
Downloads
Download data is not yet available.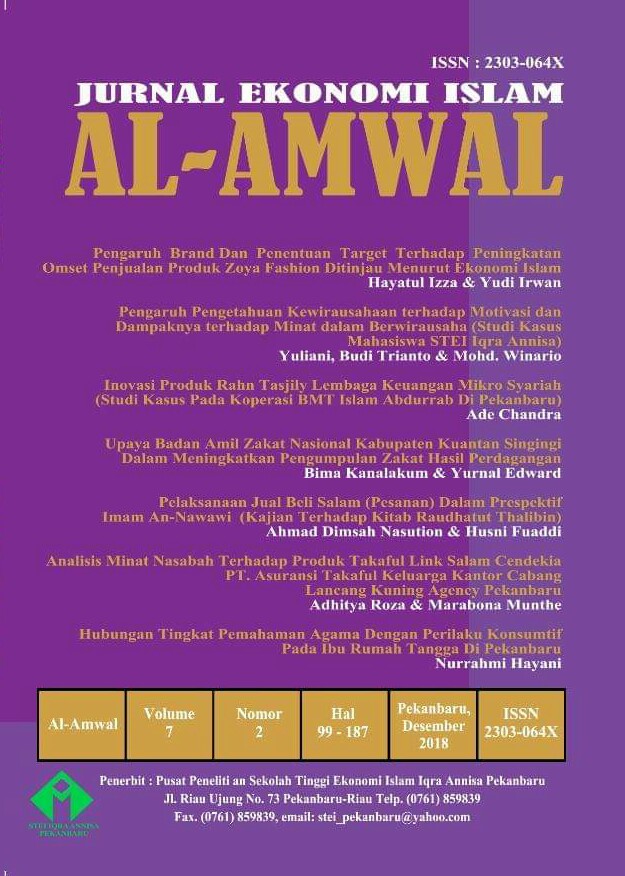 1. Copyright of all journal manuscripts is held by the Al-Amwal : Jurnal Ekonomi Islam
2. Formal legal provisions to access digital articles of electronic journal are subject to the provision of the Creative Commons Attribution-ShareAlike license (CC BY-NC-SA), which means that Al-Amwal : Jurnal Ekonomi Islam is rightful to keep, transfer media/format, manage in the form of databases, maintain, and publish articles.
3. Published manuscripts both printed and electronic are open access for educational, research, and library purposes. Additionally, the editorial board is not responsible for any violations of copyright law.
licensed under a Creative Commons Attribution-ShareAlike 4.0 International License.