PRAKTEK PEMINJAMAN MODAL USAHA KEBUN KELAPA SAWIT PADA TOKE KELAPA SAWIT MENURUT PERSPEKTIF EKONOMI ISLAM (Studi Kasus Desa Sei Segajah Kec. Kubu Kab Rokan Hilir)
PRAKTEK PEMINJAMAN MODAL USAHA KEBUN KELAPA SAWIT PADA TOKE KELAPA SAWIT MENURUT PERSPEKTIF EKONOMI ISLAM (Studi Kasus Desa Sei Segajah Kec. Kubu Kab Rokan Hilir)
NURFAZILAYANI NURFAZILAYANI

STEI Iqra Annisa Pekanbaru

MARABONA MUNTHE
Keywords:
Pinjaman, Modal, Usaha
Abstract
Jual Beli Rosok Ditinjau Dari Perspektif Ekonomi Syariah (Studi Kasus Jual Beli Sapi Di Pasar Ternak Matur, Kecamatan Matur, Kabupaten Agam, Provinsi Sumatera Barat)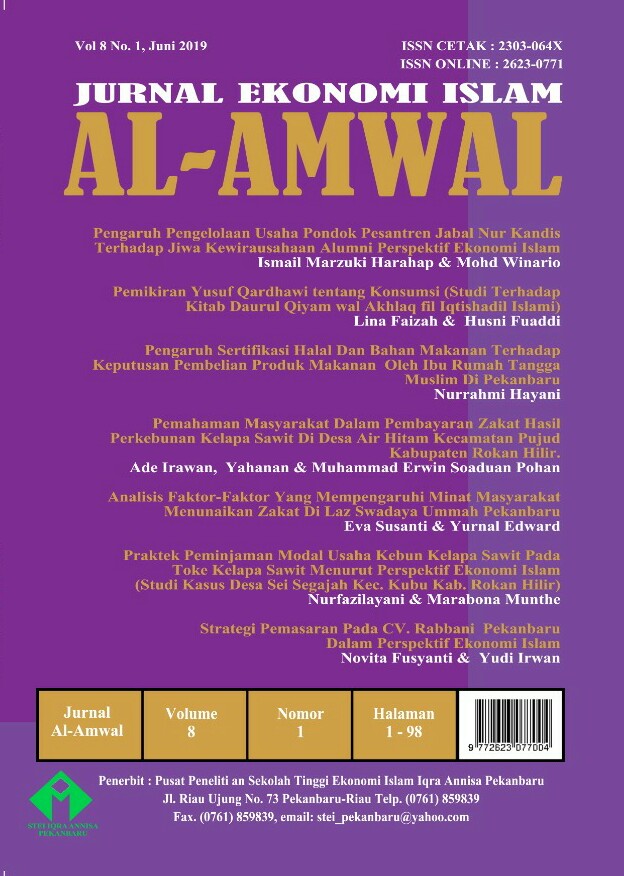 1. Copyright of all journal manuscripts is held by the Al-Amwal : Jurnal Ekonomi Islam
2. Formal legal provisions to access digital articles of electronic journal are subject to the provision of the Creative Commons Attribution-ShareAlike license (CC BY-NC-SA), which means that Al-Amwal : Jurnal Ekonomi Islam is rightful to keep, transfer media/format, manage in the form of databases, maintain, and publish articles.
3. Published manuscripts both printed and electronic are open access for educational, research, and library purposes. Additionally, the editorial board is not responsible for any violations of copyright law.
licensed under a Creative Commons Attribution-ShareAlike 4.0 International License.