PENGARUH HARGA JUAL, BIAYA PRODUKSI, DAN ETOS KERJA ISLAM TERHADAP PENDAPATAN PETANI KENTANG DENGAN PRODUKTIVITAS SEBAGAI VARIABEL INTERVENING (Studi Kasus Petani Kentang KT Agri Mandiri Kecamatan Getasan)
Pipit Wulandari

IAIN Salatiga
Abstract
This research was conducted with the aim of knowing how the influence of selling prices, production costs, and Islamic work ethic on the income of potato farmers with productivity as an intervening variable on members of the Agri Mandiri farmer group, Getasan District. This study is a quantitative study using primary data, the population in this study is potato farmers KT Agri Mandiri Getasan District. The sampling technique in this study used simple random sampling, totaling 75 respondents. The method of data collection is done through a questionnaire. The data that has been obtained by the researcher is then processed using the IBM SPSS application, by testing the instrument test (validity and reliability test), statistical test (R test, F test and T test), classical assumption test (multicollinearity test, heteroscedasticity test, normality test, test linearity) and path analysis. With the tests that have been carried out stating the results of the t test, namely the effect of selling prices, production costs have no effect on income. Meanwhile, the Islamic work ethic has a significant negative effect on income, and the productivity variable as an intervening variable has a significant effect on income. Then for joint testing, namely the f test, it shows that there is a joint influence between selling prices, production costs, Islamic work ethic, and productivity on income. In the path analysis test, the productivity variable was able to mediate the effect of selling price, Islamic work ethic on the income of potato farmers, but in the production cost variable the productivity variable was not proven to mediate its effect on the income of potato farmers in KT Agri Mandiri, Getasan District.
Keywords: Selling Price, Production Cost, Islamic Work Ethic, Productivity, Income
References
Aisyah, Sitti Yunus, A. (2019). Dampak Luas Lahan , Harga Jual , Hasil Produksi , dan Biaya Produksi Terhadap Pendapatan Petani Padi. Jurnal EcceS, 6(2), 152–170.
Amri, N. F. (2019). PENGARUH ETOS KERJA TERHADAP PENINGKATAN PENDAPATAN NELAYAN. In UNIVERSITAS MUHAMMADIYAH MAKASSAR. https://doi.org/.1037//0033-2909.I26.1.78
Arimbawa, P. D., & Widanta, A. . B. P. (2017). PENGARUH LUAS LAHAN, TEKNOLOGI DAN PELATIHAN TERHADAP PENDAPATAN PETANI PADI DENGAN PRODUKTIVITAS SEBAGAI VARIABEL INTERVENING DI KECAMATAN MENGWI. E-JURNAL EKONOMI PEMBANGUNAN UNIVERSITAS UDAYANA, 6(8), 1601–1627. http://www.tjyybjb.ac.cn/CN/article/downloadArticleFile.do?attachType=PDF&id=9987
Asifudin, A. J. (2004). Etos Kerja Islam. Muhammadiyah University Press.
Fuad, M., H, C., Nurlela, Sugiarto, & Y.E.F, P. (2000). Pengantar Bisnis. PT Gramedia Pustaka Utama.
Karim, A. A. (2017). Ekonomi Mikro Islam. PT Rajagrafindo Persada.
Kotler, Philip; Armstrong, G. (2010). Prinsip-prinsip Pemasaran. Erlangga.
Rosalia, M. (2020). PENGARUH BIAYA PRODUKSI DAN HARGA JUAL TERHADAP PENDAPATAN PETANI PINANG DI DESA SUNGAI RAMBUT KECAMATAN BERBAK TANJUNG JABUNG TIMUR. In Gastronomía ecuatoriana y turismo local.
Sari, V. N. I. (2018). Pengaruh Produktivitas Terhadap Pendapatan Petani dalam Perspektif Ekonomi Islam (Studi di Kecamatan Sukarame Kota Bandar Lampung). UIN RADEN INTAN LAMPUNG.
Setyaningrum, A., Udaya, J., & Efendi. (2015). Prinsip-prinsip Pemasaran. ANDI.
Skousen, M. (2005). Sang Maestro Teori Teori Ekonomi Modern. Prenada Media.
Sugiyono. (2016). Metode Penelitian Kuantitatif, Kualitatif, dan R&D. Penerbit Alfabeta.
Sule, E. T., & Saefullah, K. (2005). Pengantar Manajemen. Kencana.
Suprapto, H. (2017). Metodologi Penelitian Untuk Karya Ilmiah. Gosyen Publishing.
Sutriani, Djaja, S., & Sukidin. (2014). Pengaruh etos kerja terhadap pendapatan penjual ikan keliling di desa jambewangi kecamatan sempu kabupaten banyuwangi tahun 2014. 1–10.
Tasmara, T. (2002). Membudayakan Etos Kerja Islami. Gema Insani.
Wahab, W., & Pamungkas, P. (2019). Pengaruh Harga dan Biaya terhadap Pendapatan Petani Kelapa Sawit pada KUD Cinta Damai di Kecamatan Tapung Hilir. Eko Dan Bisnis: Riau Economic and Business Review, 10(1), 106–119.
Wiguna, I. P. A. A., & Purbadharmaja, I. B. P. (2019). PENGARUH KEMAMPUAN PRODUKSI, LUAS LAHAN DAN BIAYA PRODUKSI TERHADAP JUMLAH PRODUKSI SERTA PENDAPATAN PETANI PISANG. Introduction to Survey Sampling, 9–16. https://doi.org/10.4135/9781412984683.n2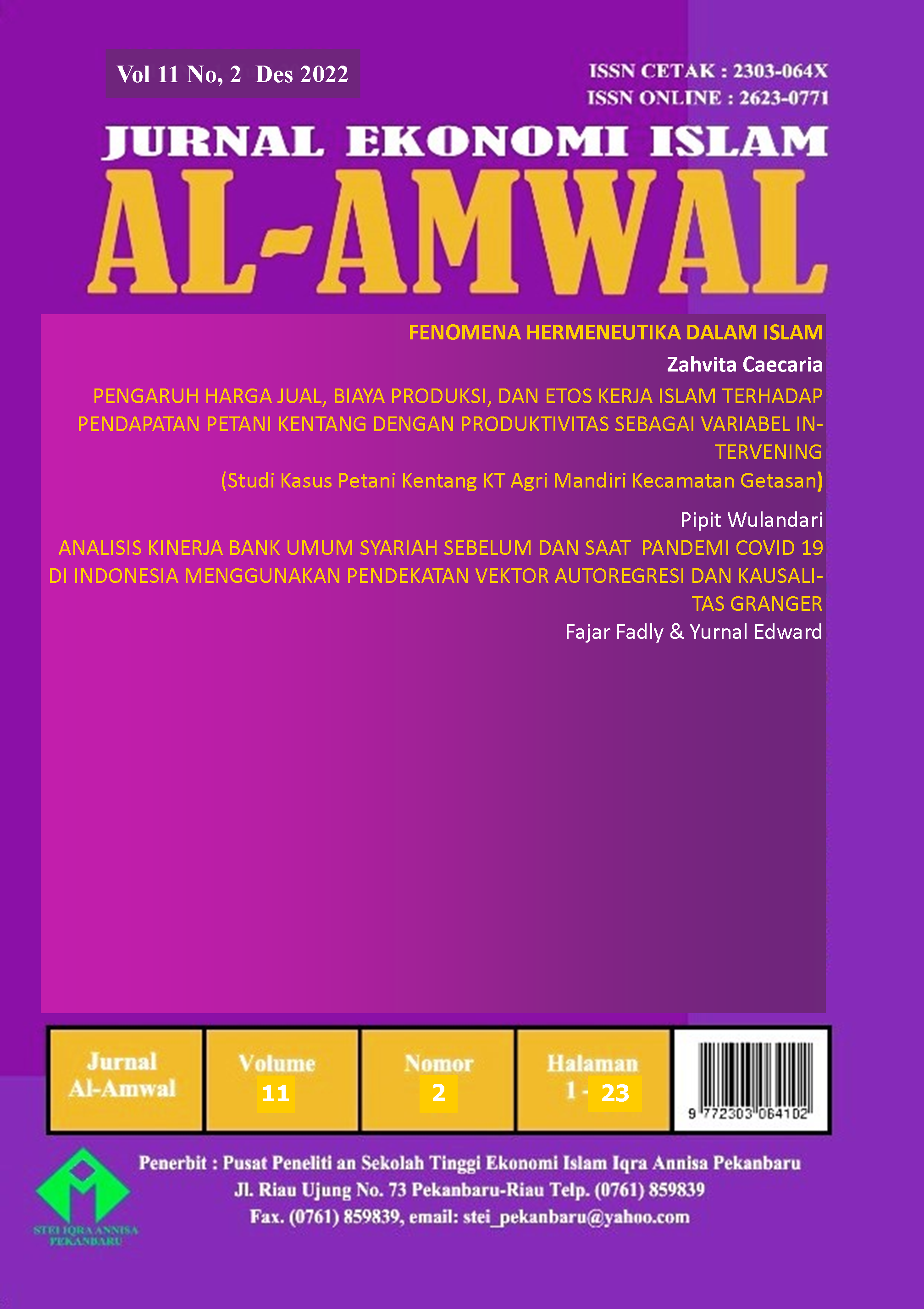 Copyright (c) 2022 Al-Amwal :Jurnal Ekonomi Islam
This work is licensed under a Creative Commons Attribution-NonCommercial-ShareAlike 4.0 International License.
1. Copyright of all journal manuscripts is held by the Al-Amwal : Jurnal Ekonomi Islam
2. Formal legal provisions to access digital articles of electronic journal are subject to the provision of the Creative Commons Attribution-ShareAlike license (CC BY-NC-SA), which means that Al-Amwal : Jurnal Ekonomi Islam is rightful to keep, transfer media/format, manage in the form of databases, maintain, and publish articles.
3. Published manuscripts both printed and electronic are open access for educational, research, and library purposes. Additionally, the editorial board is not responsible for any violations of copyright law.
licensed under a Creative Commons Attribution-ShareAlike 4.0 International License.