IMPLEMENTASI KEBIJAKAN PENGELOLAAN ZAKAT: STUDI PADA BADAN AMIL ZAKAT NASIONAL (BAZNAS) KABUPATEN PELALAWAN TAHUN 2018
Amir Syamsuadi

Universitas Abdurrab

Seri Hartati

Universitas Abdurrab

Liza Trisnawati

Universitas Abdurrab
Abstract
This study discusses the implementation of zakat management policies at the National Amil Zakat Agency (BAZNAS) in Pelalawan Regency in 2018. There was an increase in the acquisition of zakat funds managed by BAZNAS Pelalawan Regency, namely 2.3 billion rupiah in 2017 to 5 billion rupiah in 2018 with an increase of more than 100%. The focus of the research is policy implementation with a qualitative descriptive research method approach. Data was collected by reviewing documents, observations and field interviews with research informants. The results of the study indicate that the implementation of zakat management policies at the National Amil Zakat Agency of Pelalawan Regency include first, setting policy targets with integrated and integrated zakat distribution, second, human resources BAZNAS which is participatory in managing zakat, third, inter-organizational relations and institutional cooperation that encourages the creation of synergies in the collection and distribution of zakat, fourth, the characteristics of BAZNAS implementing agents coordinate vertically with government and private parties as a step for effectiveness and efficiency in distribution zakat, fifth, conducive socio-political conditions in supporting the successful implementation of policies, the sixth disposition of the implementer, namely the commitment and integrity of amil zakat in carrying out their duties.
References
Akbar, W., & Tarantang, J. (2018). Manajemen zakat (Hakikat dan spirit Alquran Surah At-Taubah [9]: 103). K-Media.
Akramunnas, S. E., & Syarifuddin, S. E. I. (2021). EKONOMI ISLAM: Suatu Pengantar. EDU PUBLISHER.
Anggito, A., & Setiawan, J. (2018). (2018). Metodologi Penelitian Kualitatif. CV Jejak (Jejak Publisher).
Bahri, E. S., & Khumaini, S. (2020). Analisis efektivitas penyaluran zakat pada badan amil zakat nasional. Al Maal: Journal of Islamic Economics and Banking, 1(2), 164–175.
Coryna, I. A., & Tanjung, H. (2015). Formulasi Strategi Penghimpunan Zakat oleh Badan Amil Zakat Nasional (BAZNAS). Al-Muzara'ah, 3(2), 158–179.
Furqon, A. (2015). Manajemen zakat. Semarang: CV Karya Abadi Jaya.
Hafidhuddin, D. (2002). Zakat dalam perekonomian modern. Gema insani.
Hudayah, N. (2020). Strategi Komunikasi BAZNAS Kabupaten Pinrang dalam Meningkatkan Kesadaran Masyarakat Berzakat di Lembaga Zakat. IAIN Parepare.
Rahman, T. (2015). Akuntansi Zakat, Infak dan Sedekah (PSAK 109): Upaya Peningkatan Transparansi dan Akuntabilitas Organisasi Pengelola Zakat (OPZ). Muqtasid: Jurnal Ekonomi Dan Perbankan Syariah, 6(1), 141–164.
Sari, G. P., Kusuma, A. R., & Kalalinggi, R. (2017). Implementasi Peraturan Daerah Nomor 02 Tahun 2011 Tentang Pengelolaan Sampah di Kelurahan Sempaja Utara Dan Kelurahan Sempaja Selatan Kota Samarinda. Jurnal Administrative Reform, 1(2), 436–442.
Subarsono, A. G. (2006). Analisis Kebijakan: Konsep, Teori dan Aplikasi. Yogyakarta: Pustaka Pelajar.
Sugiarto, E. (2017). Menyusun proposal penelitian kualitatif: Skripsi dan tesis: Suaka media. Diandra Kreatif.
Sularno, M. (2010). Pengelolaan zakat oleh badan amil zakat daerah kabupaten/kota se Daerah Istimewa Yogyakarta (Studi terhadap implementasi undang-undang no. 38 tahun 1999 tentang pengelolaan zakat). La_Riba, 4(1), 35–45.
Syamsuadi, A., Hartati, S., Trisnawati, L., & Arisandi, D. (2020). Strategi Kebijakan Pengembangan Sagu Berbasis Sentra Industri Kecil Menengah (IKM). Jurnal Inovasi Ilmu Sosial dan Politik (JISoP), 2(2), 114–128.
Syamsuadi, A., Sepriyani, H., Endrini, S., & Febriani, A. (2022). Implementasi Kebijakan Merdeka Belajar Kampus Merdeka di Universitas Abdurrab pada Program Magang Mahasiswa. EDUKATIF: JURNAL ILMU PENDIDIKAN, 4(1), 1341–1348.
Trianto, B., Siregar, S., & Nasution, M. Y. (2020). Does the Mustahik Demographic and Socio-Cultural Affect to the Successful of Poverty Alleviation? International Journal of Zakat, 5(1), 67–81.
Wahab, S. A. (2012). Analisis kebijakan: dari formulasi ke penyusunan model-model implementasi kebijakan publik. Bumi Aksara.
Wibisono, Y. (2015). Mengelola Zakat Indonesia. Kencana.
Winarno, B. (2012). Kebijakan publik: teori, proses, dan studi kasus: edisi dan revisi terbaru. Center for Academic Publishing Service.
Yuliah, E. (2020). Implementasi Kebijakan Pendidikan. Jurnal At-Tadbir: Media Hukum dan Pendidikan, 30(2), 129–153.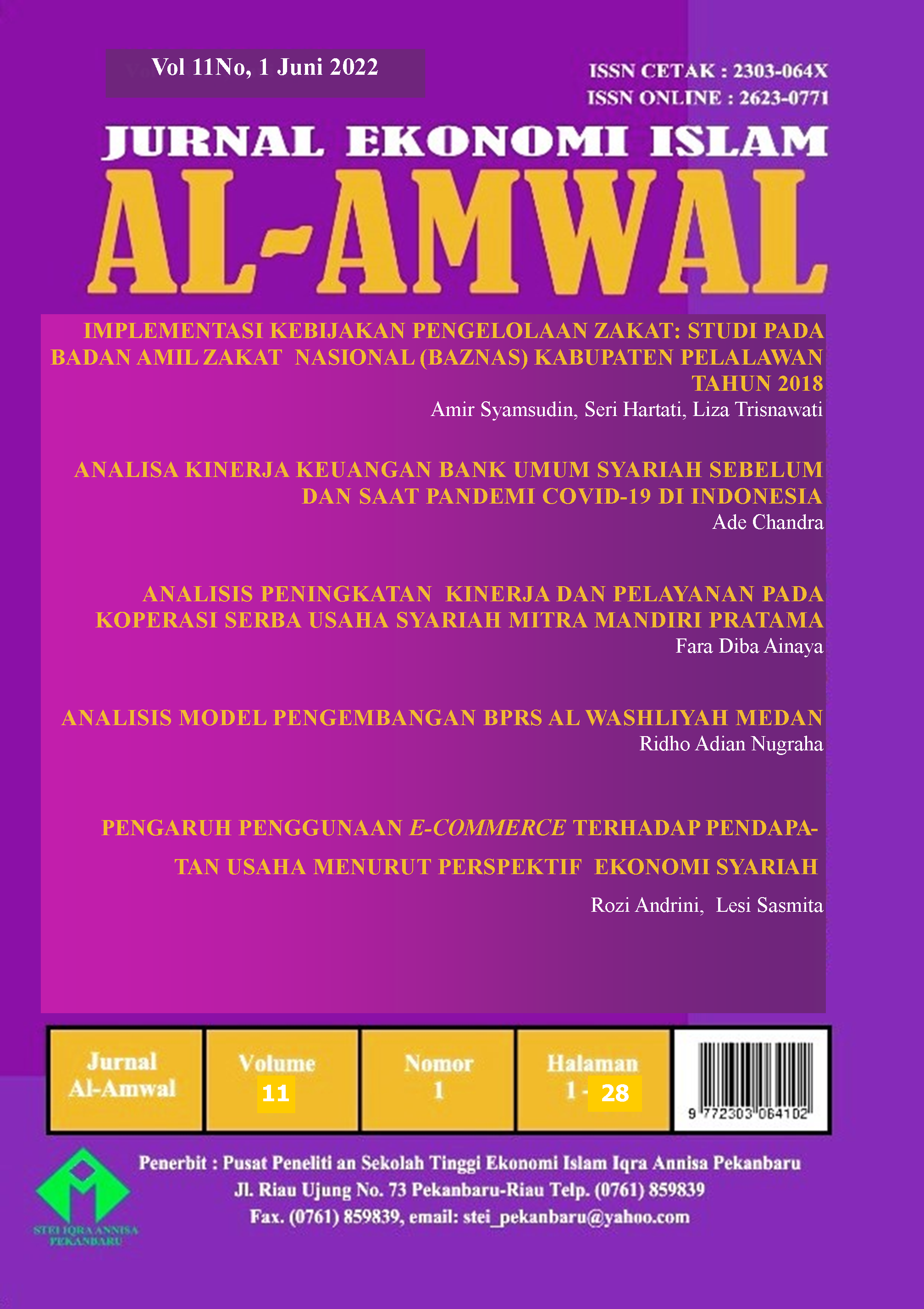 Copyright (c) 2022 Al-Amwal :Jurnal Ekonomi Islam
This work is licensed under a Creative Commons Attribution-NonCommercial-ShareAlike 4.0 International License.
1. Copyright of all journal manuscripts is held by the Al-Amwal : Jurnal Ekonomi Islam
2. Formal legal provisions to access digital articles of electronic journal are subject to the provision of the Creative Commons Attribution-ShareAlike license (CC BY-NC-SA), which means that Al-Amwal : Jurnal Ekonomi Islam is rightful to keep, transfer media/format, manage in the form of databases, maintain, and publish articles.
3. Published manuscripts both printed and electronic are open access for educational, research, and library purposes. Additionally, the editorial board is not responsible for any violations of copyright law.
licensed under a Creative Commons Attribution-ShareAlike 4.0 International License.