PERAN PEMBIAYAAN SYARIAH DALAM PENGEMBANGAN UMKM DI INDONESIA
Sedinadia Putri

Ekonomi Syariah, IAIN Ponorogo
Abstract
Usaha Mikro Kecil dan Menengah (UMKM) adalah suatu usaha yang memiliki kontribusi penting terhadap perekonomian di Indonesia. UMKM mampu menyerap tenaga kerja, mengurangi pengangguran dan kemiskinan. Hal ini juga bisa dijadikan peluang oleh masyarakat untuk membuka usaha. Namun dalam pengembangannya UMKM masih memiliki keterbatasan dalam permodalan. Sehingga menjadi tantangan sendiri untuk pemerintah maupun lembaga keuangan. Oleh karena itu, sekarang banyak bermunculan pembiayaan berbasis syariah untuk mendukung pengembangan UMKM. Tujuan dalam penelitian ini adalah untuk mengetahui bagaimana peran pembiayaan syariah dalam pengembangan UMKM. Penelitian ini menggunakan metode kualitatif dengan pendekatan deskriptif. Berdasarkan hasil penelitian, pembiayaan syariah mempu memberikan kontribusi terhadap pengembangan UMKM. Hal ini memberikan peluang kepada pelaku usaha mikro, kecil dan menengah yang memiliki keterbatasan modal agar mampu mengembangkan usahanya.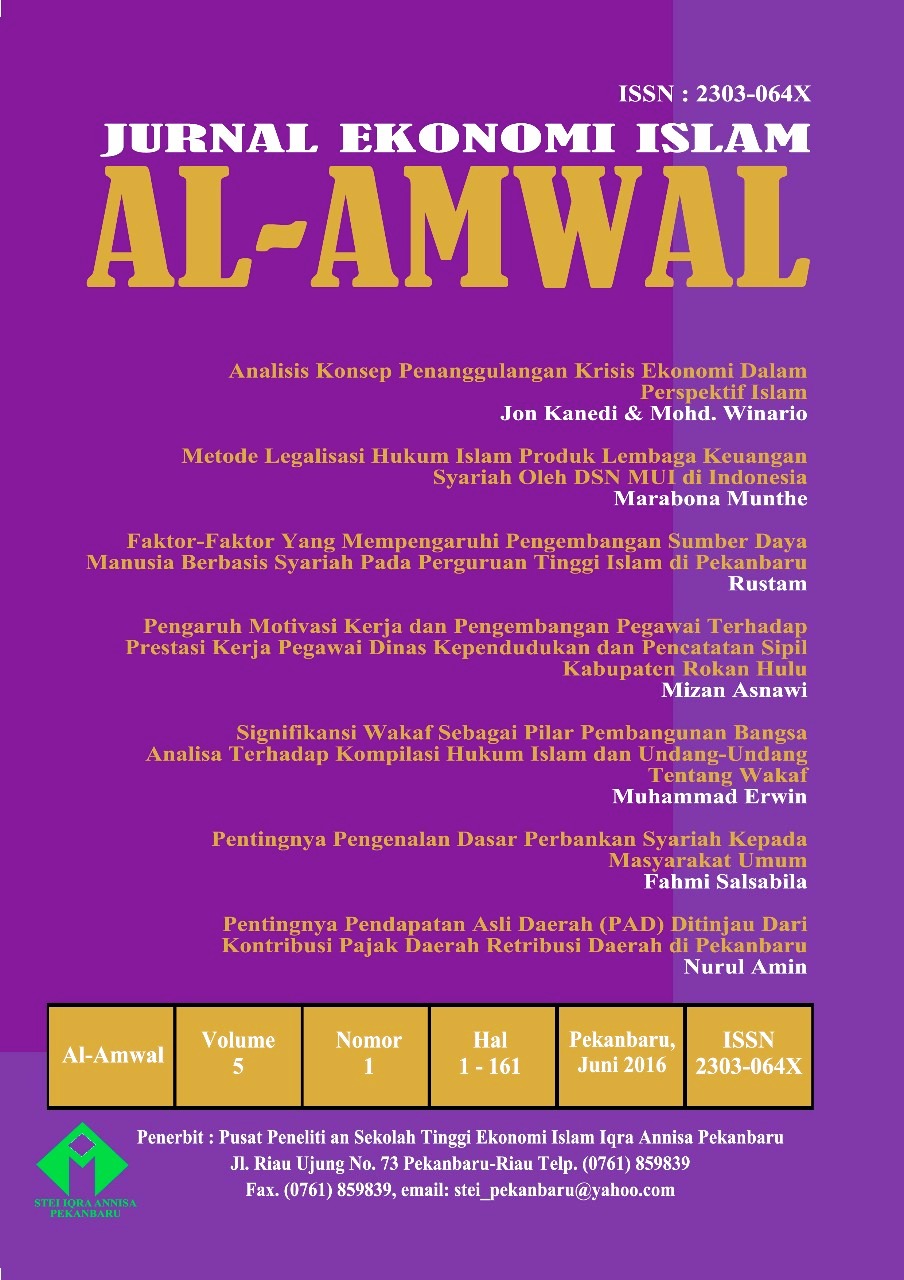 1. Copyright of all journal manuscripts is held by the Al-Amwal : Jurnal Ekonomi Islam
2. Formal legal provisions to access digital articles of electronic journal are subject to the provision of the Creative Commons Attribution-ShareAlike license (CC BY-NC-SA), which means that Al-Amwal : Jurnal Ekonomi Islam is rightful to keep, transfer media/format, manage in the form of databases, maintain, and publish articles.
3. Published manuscripts both printed and electronic are open access for educational, research, and library purposes. Additionally, the editorial board is not responsible for any violations of copyright law.
licensed under a Creative Commons Attribution-ShareAlike 4.0 International License.