ANALISA PROGRAM PEMBERDAYAAN MUSTAHIK PADA BAZNAS ROKAN HULU
Bintang Sari

Alumni STEI Iqra Annisa Pekanbaru
Abstract
Zakat merupan instrumen dalam pendistribusian harta dari wajib zakat kepada para mustahik. Dengan adanya zakat, menjadikan setiap wajib zakat berempati kepada sesamanya dalam hal ini mustahik zakat yang telah di atur dalam Qur'an surat At Taubah ayat 60. Dimana dalam surat tersebut terdapat delapan golongan manusia yang berhak mendapatkan zakat dari zakat yang sudah terkumpul. Sedangakan pengumpulan zakat dapat dilakukan oleh lembaga - lembaga resmi yang telah mendapatkan izin dari pemerintah salah satunya adalah BAZNAS Kabupaten Rokan Hulu. Dimana salah satu fungsinya adalah mengumpulkan zakat lalu mendistribusikan kepada orang - orang yang berhak menerimanya. Untuk mengetahui efektivitas pendistribusian zakat, perlu di lakukan observasi secara langsung dengan metode wawancara kepada pengelola zakat dan penerima manfaat dari zakat serta mengumpulkan data - data pendukung yang tersedia. Hasil dari analisa data tersebut menggambarkan bahwa pendistribusian zakat kepada penerima zakat dengan cara pemberdayaan mustahik di BAZNAS Kabupaten Rokan Hulu mampu menaikkan tingakt perekonomian dari penerima manfaat zakat.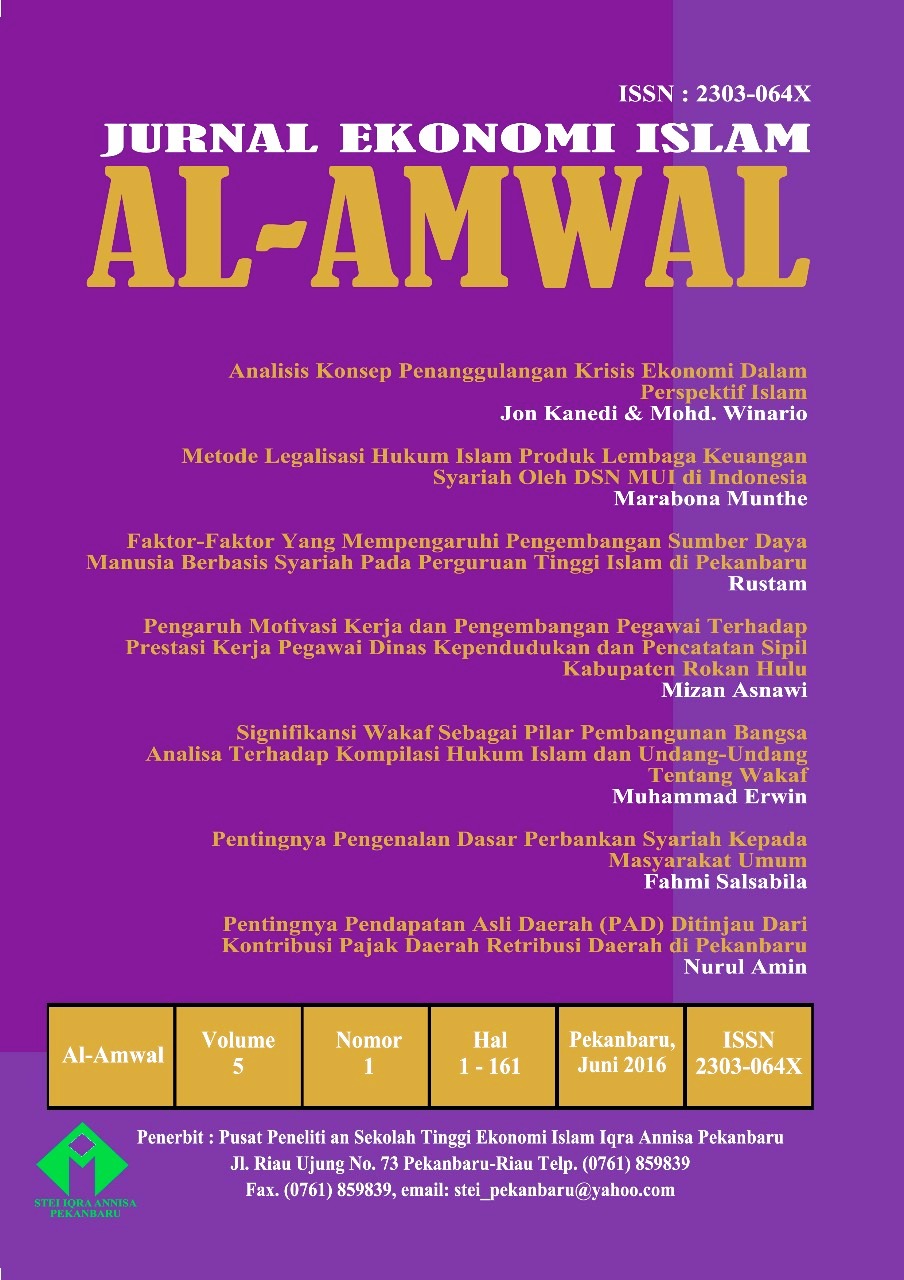 1. Copyright of all journal manuscripts is held by the Al-Amwal : Jurnal Ekonomi Islam
2. Formal legal provisions to access digital articles of electronic journal are subject to the provision of the Creative Commons Attribution-ShareAlike license (CC BY-NC-SA), which means that Al-Amwal : Jurnal Ekonomi Islam is rightful to keep, transfer media/format, manage in the form of databases, maintain, and publish articles.
3. Published manuscripts both printed and electronic are open access for educational, research, and library purposes. Additionally, the editorial board is not responsible for any violations of copyright law.
licensed under a Creative Commons Attribution-ShareAlike 4.0 International License.