STRATEGI PEMASARAN DALAM ISLAM PADA TOKO ATIK MANDIRI DI DESA BANDAR SUNGAI, KECAMATAN SABAK AUH, KABUPATEN SIAK
STRATEGI PEMASARAN DALAM ISLAM PADA TOKO ATIK MANDIRI DI DESA BANDAR SUNGAI, KECAMATAN SABAK AUH, KABUPATEN SIAK
ERVIN SULISTYO

STEI Iqra Annisa Pekanbaru

ARFIANTI NOVITA

STEI Iqra Annisa Pekanbaru
Abstract
Penelitian ini bertujuan untuk Memahami strategi pemasaran yang dilakukan pada toko Atik Mandiri di Desa Bandar Sungai, Kecamatan Sabak Auh, Kabupaten Siak, dalam mengembangkan usahanya, sehingga penjualan meningkat setiap tahunnya. Penelitian bersifat deskriptif kualitatif. Teknik Pengumpulan Data menggunakan teknik Observasi, Wawancara dan Dokumentasi. Analisa yang digunakan dalam penelitian ini menggunakan metode kualitatif deskriptif yaitu menggambarkan objek penelitian. Objek yang diteliti mengenai bagaimana Toko Atik Mandiri melakukan strategi pemasaran untuk mengembangkan bisnisnya dan etika bisnis yang diterapkan pada toko tersebut. Hasil penelitian menunjukkan bahwa Strategi pemasaran yang telah dilakukan oleh Toko Atik Mandiri adalah dengan menggunakan segmentasi pasar dan Target Pasar. Segmentasi pasar ada tiga variabel utama yang digunakan, yaitu dengan segmentasi geografis atau wilayah, segmentasi demografis, dan segmentasi psikografis.
Downloads
Download data is not yet available.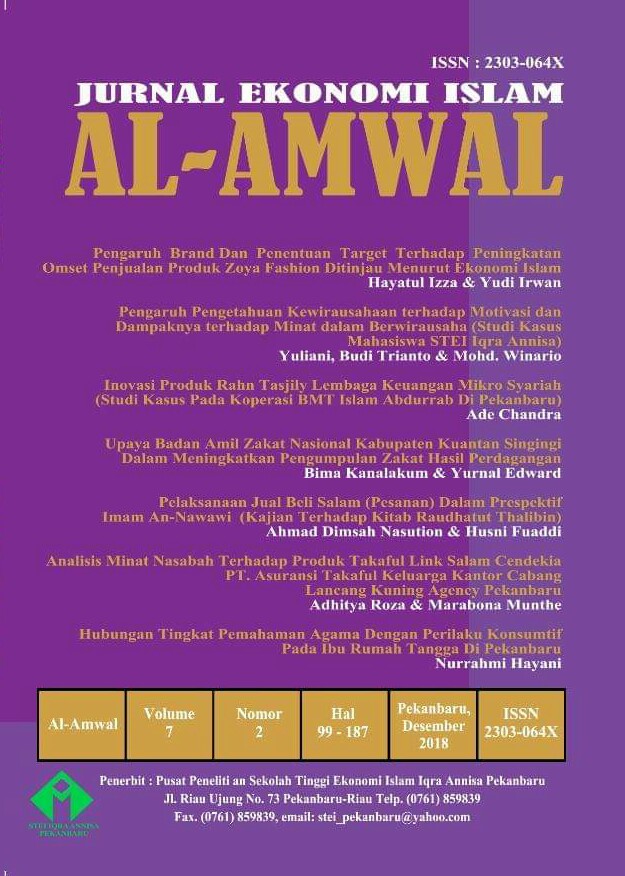 1. Copyright of all journal manuscripts is held by the Al-Amwal : Jurnal Ekonomi Islam
2. Formal legal provisions to access digital articles of electronic journal are subject to the provision of the Creative Commons Attribution-ShareAlike license (CC BY-NC-SA), which means that Al-Amwal : Jurnal Ekonomi Islam is rightful to keep, transfer media/format, manage in the form of databases, maintain, and publish articles.
3. Published manuscripts both printed and electronic are open access for educational, research, and library purposes. Additionally, the editorial board is not responsible for any violations of copyright law.
licensed under a Creative Commons Attribution-ShareAlike 4.0 International License.