PERAN PENDIDIKAN AGAMA ISLAM DALAM MENCEGAH JUDI TERSELUBUNG PADA MAHASISWA
PERAN PENDIDIKAN AGAMA ISLAM DALAM MENCEGAH JUDI TERSELUBUNG PADA MAHASISWA
EDISON EDISON

Universtitas Abdurrab
Keywords:
Peran, Pendidikan, Islam, Mencegah, Judi
Abstract
Penelitian ini bertujuan merumuskan upaya pencegahan judi terselubung yang merebak di tengah masyarakat, khususnya di kalangan mahasiswa. Penelitian ini menggunakan metode studi literatur. Hasil penelitian merumuskan beberapa upaya mencegah judi terselubung melalui Pendidikan Agama Islam yang menekankan pada pendidikan aqidah dan tashawwur peserta didik yang diikuti dengan melaksanakan kuliah praktikkum pengamatan praktik judi terselubung. Penekanan lainnya yakni memahamkan tentang konsep muamalah, serta menyelenggarakan pendidikan guru keluarga. Penelitian ini juga merekomendasikan kepada pemerintah dan pihak terkait agar menindak dan turut mencegah segala bentuk judi terselubung yang beredar di tengah masyarakat.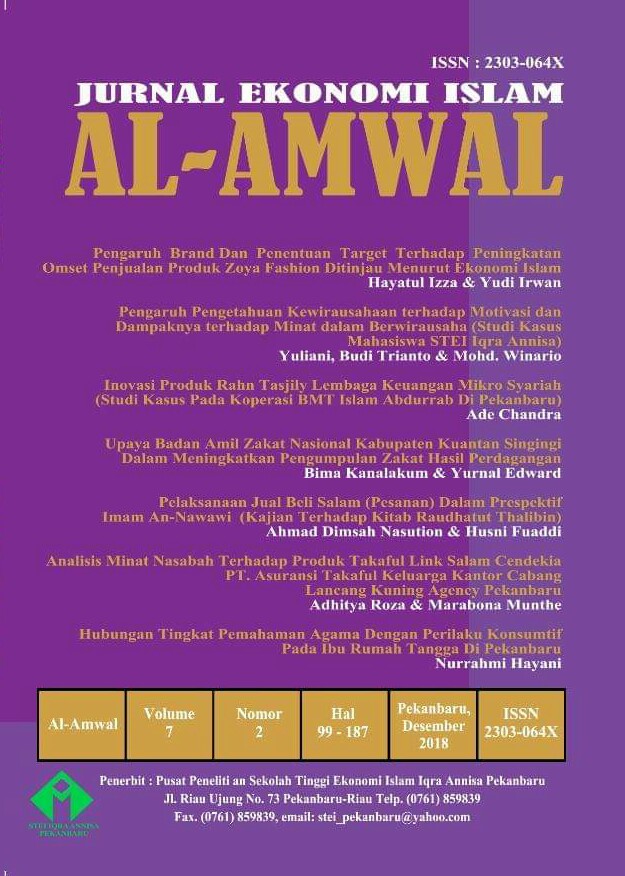 1. Copyright of all journal manuscripts is held by the Al-Amwal : Jurnal Ekonomi Islam
2. Formal legal provisions to access digital articles of electronic journal are subject to the provision of the Creative Commons Attribution-ShareAlike license (CC BY-NC-SA), which means that Al-Amwal : Jurnal Ekonomi Islam is rightful to keep, transfer media/format, manage in the form of databases, maintain, and publish articles.
3. Published manuscripts both printed and electronic are open access for educational, research, and library purposes. Additionally, the editorial board is not responsible for any violations of copyright law.
licensed under a Creative Commons Attribution-ShareAlike 4.0 International License.