PERSEPSI MAHASISWA NON-BISNIS TERHADAP KULIAH KEWIRAUSAHAAN PASCA PELATIHAN PENYUSUNAN BUSINESS PLAN
PERSEPSI MAHASISWA NON-BISNIS TERHADAP KULIAH KEWIRAUSAHAAN PASCA PELATIHAN PENYUSUNAN BUSINESS PLAN
KAMARUZAMAN KAMARUZAMAN

STAIN Sultan Abdurrahman Kepulauan Riau

ASRIZAL ASRIZAL

STAIN Sultan Abdurrahman Kepulauan Riau
Abstract
Pembelajaran kewirausahaan memiliki urgensitas bagi mahasiswa lintas bidang karena berperan sebagai ransangan tumbuhnya jiwa berwirausaha. Kegiatan penyusunan business plan dapat menjadi akselarator untuk meningkatkan pemahaman kewirausahaan secara lebih praktis dan fragmatis. Tujuan dari kajian ini adalah meningkatkan persepsi kewirausahaan dengan perlakuan pelaksanaan penyusunan business plan. Metode  penelitian dengan pendekatan deskriptif kualitatif, membangun persepsi mahasiswa non-bisnis tentang perlunya memiliki basic keilmuan kewirausahaan. Hasil penelitian menunjukkan persepsi tersebut terdiri dari meningkatnya pengetahuan kewirausahaan, ketrampilan menyusun proposal usaha, motivasi berwirausaha, kesiapan mengelola resiko, menentukan sikap diri, nilai dan pola pikir berwirausaha, menghasilkan ide-ide usaha. Pada akhirnya disimpulkan bahwa kegiatan aktualisasi penyusunan business plan dapat meningkatkan persepsi kewirausahaan mahasiswa terutama non-bisnis.
Downloads
Download data is not yet available.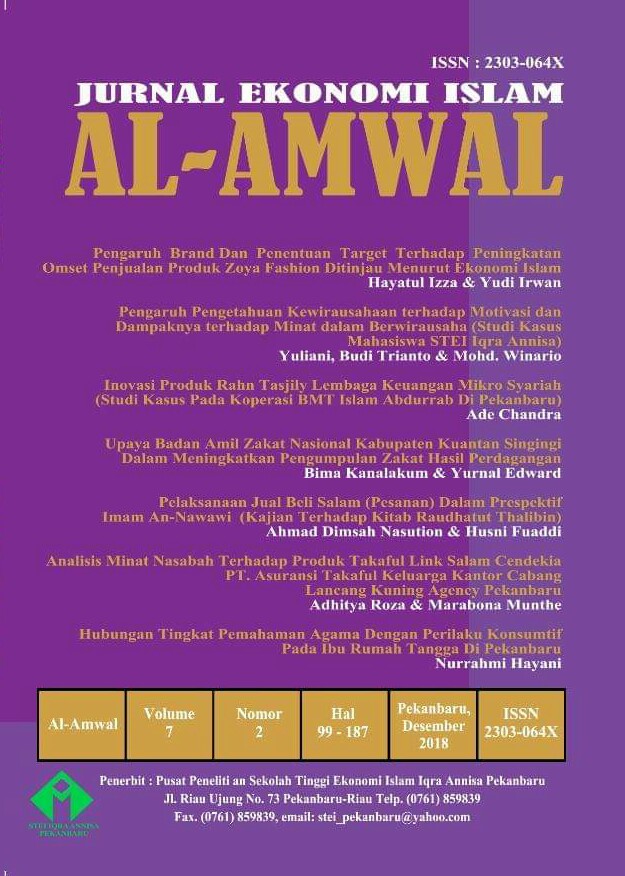 1. Copyright of all journal manuscripts is held by the Al-Amwal : Jurnal Ekonomi Islam
2. Formal legal provisions to access digital articles of electronic journal are subject to the provision of the Creative Commons Attribution-ShareAlike license (CC BY-NC-SA), which means that Al-Amwal : Jurnal Ekonomi Islam is rightful to keep, transfer media/format, manage in the form of databases, maintain, and publish articles.
3. Published manuscripts both printed and electronic are open access for educational, research, and library purposes. Additionally, the editorial board is not responsible for any violations of copyright law.
licensed under a Creative Commons Attribution-ShareAlike 4.0 International License.