PENYELESAIAN SENGKETA EKONOMI SYARIAH MELALUI ARBITRASE SYARIAH
PENYELESAIAN SENGKETA EKONOMI SYARIAH MELALUI ARBITRASE SYARIAH
MUSRIFAH MUSRIFAH

UIN SUSKA Riau

MADONA KHAIRUNISA

UIN SUSKA Riau
Keywords:
Penyelesaian Sengketa, Ekonomi Syariah, Arbitrase Syariah
Abstract
Tulisan ini bertujuan untuk (1) Untuk membahas mengenai mekanisme (prosedur) penyelesaian sengketa ekonomi syraiah melalui arbitrase syariah dan (2) Untuk menelaah eksistensi arbitrase syariah pasca amandemen UU No. 7 Tahun 1989 tentang Peradilan yakni UU No. 3 Tahun 2006 Tentang Perubahan Atas UU No. 7 Tahun 1989 Tentang Peradilan Agama. Hasil penelitian menunjukkan bahwa (1) Prosedur maupun  proses penyelesaian sengketa ekonomi syariah melalui Basyarnas didasarkan pada UU No. 30 Tahun 1999 tentang Arbitrase dan Alternatif Penyelesaian Sengketa dan Peraturan Prosedur Basyarnas dan (2) Berwenangnya Peradilan Agama dalam menyelesaikan sengketa ekonomi syariah, bukan berarti bubar atau hapusnya arbitrase syariah. Arbitrase syariah dalam hal ini Basyarnas tetap ada dan berwenang menyelesaikan sengketa ekonomi syariah selama itu disepakati para pihak dalam perjanjian.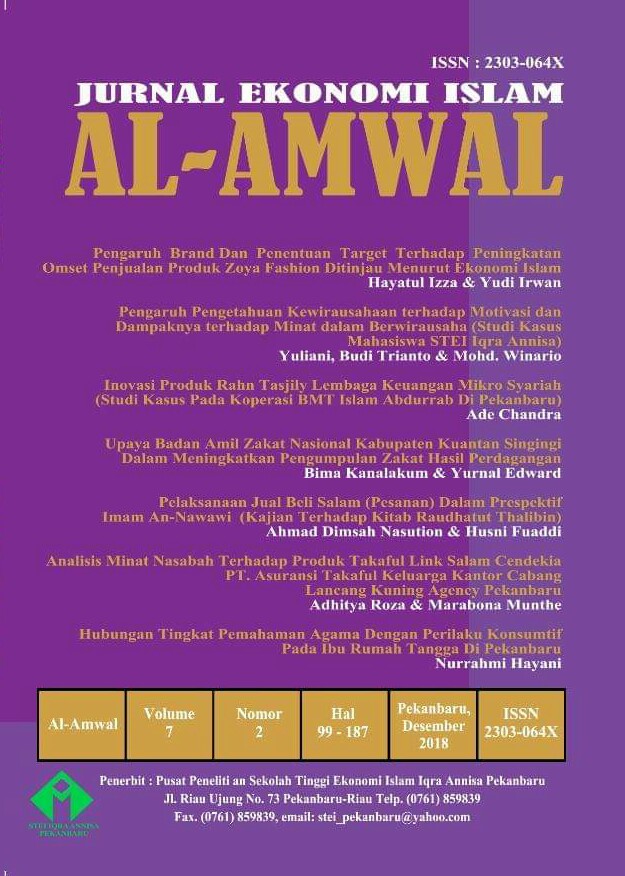 1. Copyright of all journal manuscripts is held by the Al-Amwal : Jurnal Ekonomi Islam
2. Formal legal provisions to access digital articles of electronic journal are subject to the provision of the Creative Commons Attribution-ShareAlike license (CC BY-NC-SA), which means that Al-Amwal : Jurnal Ekonomi Islam is rightful to keep, transfer media/format, manage in the form of databases, maintain, and publish articles.
3. Published manuscripts both printed and electronic are open access for educational, research, and library purposes. Additionally, the editorial board is not responsible for any violations of copyright law.
licensed under a Creative Commons Attribution-ShareAlike 4.0 International License.