DIMENSI GOOD COOPERATIVE GOVERNANCE KOPERASI KONVENSIONAL DAN KOPERASI SYARIAH DI PEKANBARU
DIMENSI GOOD COOPERATIVE GOVERNANCE KOPERASI KONVENSIONAL DAN KOPERASI SYARIAH DI PEKANBARU
ADE CHANDRA

STEI Iqra Annisa Pekanbaru
Abstract
Tata Kelola Koperasi yang Baik (TKKB) memiliki dimensi-dimensi penting untuk menjaga koperasi tumbuh, berkembang dan berkelanjutan untuk jangka panjang. Penelitian ini bertujuan untuk menemukan dimensi TKKB yang sesuai untuk koperasi simpan pinjam baik koperasi konvensional maupun koperasi syariah di Pekanbaru. Penelitian ini menngunakan metode kuantitaf deskriptif dan kualitatif. Data di kumpulkan dari sumber utama dengan kuesioner. Namun, data sekunder diambil dari buku, jurnal dan literatur lain. Data dianalisa dengan teknik analisis deskriptif. Dari hasil penelitian didapatkan bahwa dimensi-dimensi dari TKKB adalah berdasarkan pada demokrasi, kualitas sumber daya manusia, transparansi, akuntabilitas, pertanggungjawaban, independensi dan kewajaran.
Downloads
Download data is not yet available.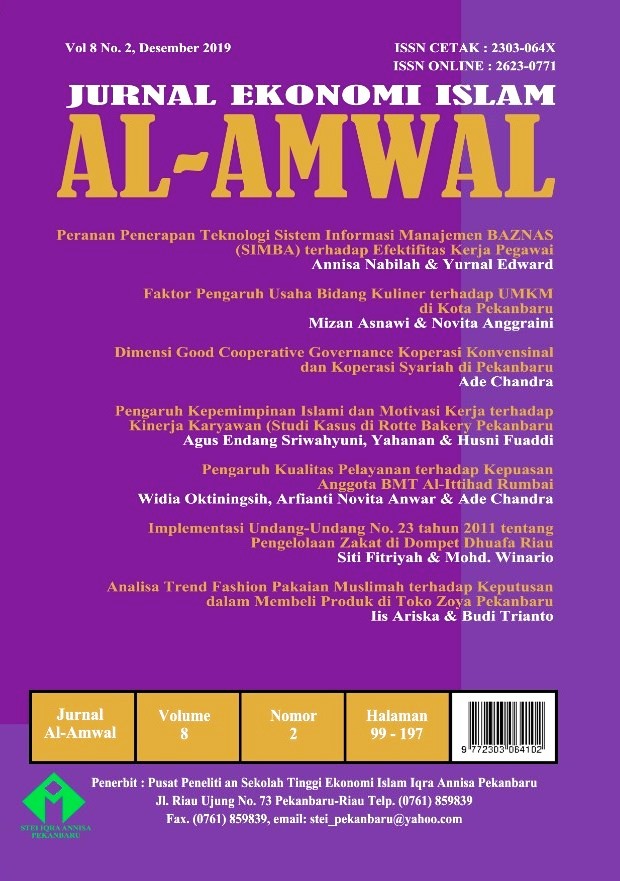 1. Copyright of all journal manuscripts is held by the Al-Amwal : Jurnal Ekonomi Islam
2. Formal legal provisions to access digital articles of electronic journal are subject to the provision of the Creative Commons Attribution-ShareAlike license (CC BY-NC-SA), which means that Al-Amwal : Jurnal Ekonomi Islam is rightful to keep, transfer media/format, manage in the form of databases, maintain, and publish articles.
3. Published manuscripts both printed and electronic are open access for educational, research, and library purposes. Additionally, the editorial board is not responsible for any violations of copyright law.
licensed under a Creative Commons Attribution-ShareAlike 4.0 International License.