HUBUNGAN TINGKAT PEMAHAMAN AGAMA DENGAN PERILAKU KONSUMTIF PADA IBU RUMAH TANGGA DI PEKANBARU
HUBUNGAN TINGKAT PEMAHAMAN AGAMA DENGAN PERILAKU KONSUMTIF PADA IBU RUMAH TANGGA DI PEKANBARU
Keywords:
Pemahaman Agama, Perilaku Konsumtif.
Abstract
Penelitian ini bertujuan untuk mengetahui hubungan tingkat pemahaman agama Islam dengan  perilaku konsumtif pada ibu rumah tangga di Kelurahan Simpang Baru Kecamatan Tampan Pekanbaru. Sampel yang digunakan dalam penelitian ini adalah sebanyak 37 orang. Analisis dan pengolahan data hasil penyebaran kuesioner menggunakan SPSS 17.0 for Windows. Analisis yang dilakukan adalah uji validitas, realibilitas, normalitas dan uji korelasi pearson. Hasil penelitian menunjukkan bahwa tingkat pemahaman agama berhubungan secara negatif  dengan perilaku konsumtif sebesar – 0,306 (r = -0,306). Hubungan antara tingkat pemahaman agama dan perilaku konsumtif pada ibu rumahtangga di kelurahan simpang baru Panam Pekanbaru tersebut digolongkan cukup (moderat) namun tidak signifikan.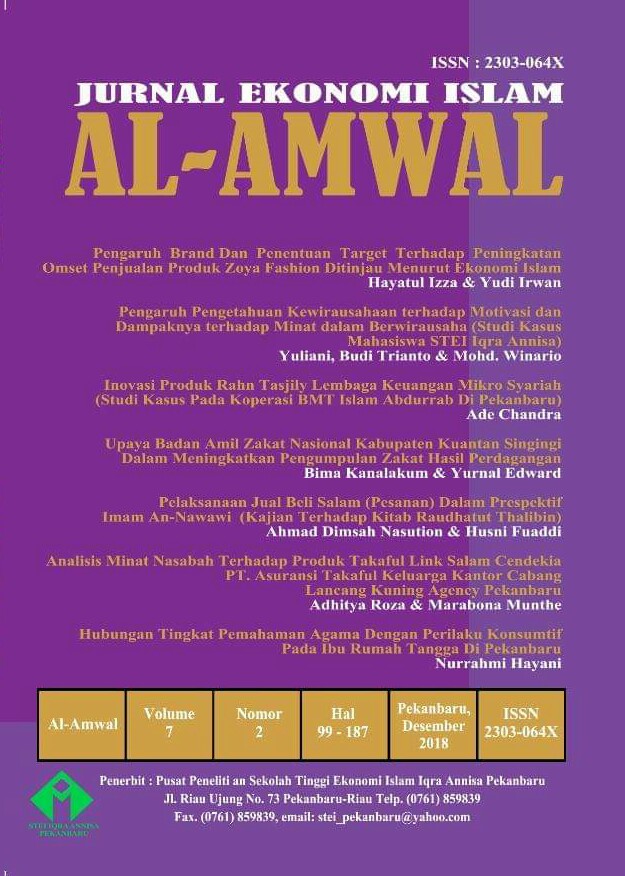 1. Copyright of all journal manuscripts is held by the Al-Amwal : Jurnal Ekonomi Islam
2. Formal legal provisions to access digital articles of electronic journal are subject to the provision of the Creative Commons Attribution-ShareAlike license (CC BY-NC-SA), which means that Al-Amwal : Jurnal Ekonomi Islam is rightful to keep, transfer media/format, manage in the form of databases, maintain, and publish articles.
3. Published manuscripts both printed and electronic are open access for educational, research, and library purposes. Additionally, the editorial board is not responsible for any violations of copyright law.
licensed under a Creative Commons Attribution-ShareAlike 4.0 International License.